| | |
| --- | --- |
| Posted by Richard Rivero on May 15, 2012 at 6:10 PM | |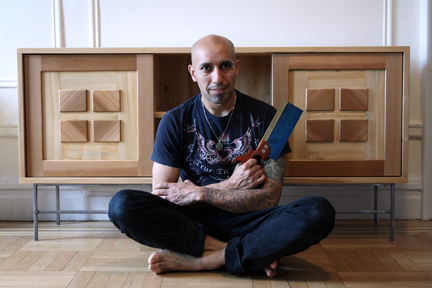 We are very happy to let you know that Richard's work (namely the reclaimed wood credenza) will be featured in the group show during Design Week. The details are finally forthcoming and we know that the first venue will be outdoors on the corner of 9th Ave/14th St. in the Meatpacking District across from the Apple store. The piece will be on display there starting this Saturday May 19th and Sunday, May 20th. After that the show will move to the Yippie Museum on Bleeker St at the Bowery for about a week. Please mark your calendars and come see us at the Salon des Refusés, sideshow to the 12x12 competition.
In a French tradition, after the competitors were chosen for the main show, there was still a lot of talent that deserved to be showcased – hence the "Exhibition of the Rejected" show was added. The rules of the main show apply to the sideshow – you can read about it on the 12x12 website.
www.12x12nyc.com/know-your-sawyer-2
Check out the event website:
The idea behind the show was using reclaimed wood. Each participant was given an allowance of free wood that came from a demolished historical site in NYC. They were given artistic freedom to create a piece of furniture of their choice which will be auctioned off and the money will go to the charity to benefit woodworking education and job training in New York City through the not-for-profit Brooklyn Woods. We feel very proud and lucky to be given this opportunity.